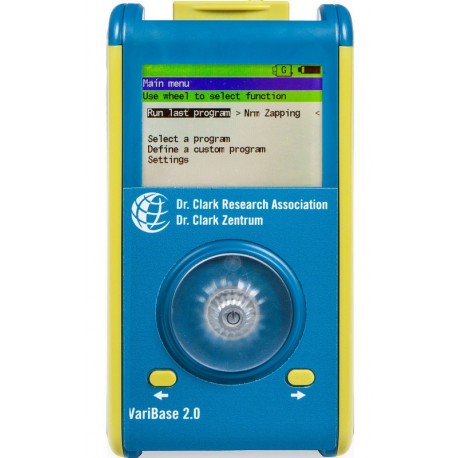 De-parasite with a zapper
Feb 20, 2017 | Varizapper review
Hey, guys,
I bought a zapper a few months ago for my wife to see if it could help her with her diabetes, and so far we are very happy. She had a lot of parasites several times shortly after she started using the system. The way she described the parasites, to me they are totally disgusting, even though she makes a disgusting face when she talks about them.
I'm sure she'll be back to her normal state very soon. In the future, we will be able to provide you with a more detailed report, but for now, we remain cautious in everything we do.
Thank you for all your hard work and God bless you and your family.
KS
A very good choice!
Feb 20, 2017 | Varizapper review
Hello,
I bought a zapper about a week ago now and I love it! I feel more endurance, clarity and hope again because I know what it does and what it's designed to do!
THANK YOU- 🙂
MK
Zapper helps sinus pain
Feb 20, 2017 | Varizapper review
"I had serious sinus problems caused by two tooth extractions from my upper jaw. When my sinuses became inflamed, I would constantly sneeze and my nose would run like a leaky faucet. This made me tired and unable to think as clearly as usual.
After a few years of suffering, I had more bad days than good days, despite all the holistic remedies I found. I started using the zapper, and I hesitate to use the words "miracle cure" but that's how I feel. I put it under my pillow when I fall asleep and when I wake up, since I've been using it during six months, I can count the number of flare-ups I've had on one hand.
I am infinitely grateful to the Zappers for solving my problem in such a simple and effective way. »
Kate
Zapper helps with indigestion and heartburn
Nov. 27, 2014 | Varizapper opinion
Hey, guys,
You may recall that a few months ago I sent an e-mail about my husband's severe reaction to the zapper. You contacted me and you made it easy. Well, I just want you to know that my husband now zaps every day and the indigestion/"heartburn" he used to suffer from has gone away.
He was a little nervous about trying again as he was knocked out for 2 full days, but according to your request, he started with 2 minutes and increased to 5, his body's response proved to him that there was something to this zap! And his improved health convinced him of the benefits of zappers. Thank you for doing this and for your prompt, knowledgeable and compassionate customer service.
MO
Brain inflammation and blurred vision
Nov. 27, 2014 | Varizapper opinion
Hi, I'm a regular user of the zapper. It's helped me tremendously with my brain inflammation and blurred vision. This system is awesome!
Since I'm getting great results, I'm interested in selling the complete system. Can you send me more information?
Thank you very much!
CC
Headache-free with Hulda Clark Zapper
Apr. 25, 2014 | Varizapper review
Hey, guys,
It's been a year since I bought my Zapper. I bought it because I assumed I had parasites. I thought it'd be a good idea to use the Zapper just in case.
After using it for a few weeks, I noticed one morning that I had a headache. I get these headaches in the back of my head every time the pressure drops because of the weather. Usually I do two sets of 5 minutes in a row. In the morning, I had a headache, but my head changed while I was zapping.
After my session, it wasn't 3 minutes and I noticed that my headache was gone! It was incredible for me, because once I get these headaches, they stay with me all day and sometimes until the next day.
I thought it was a coincidence, so the next time I had a headache, I tested it again. Bingo! Gone! All right. [Laughs] Two for two. I tried a third time. One more time, gone! 9 times out of 10, the zapping took my headache away. That's no coincidence.
No headaches for a year now!
Sherry
A wonderful experience !
March 1, 2014 | Varizapper review
I just wanted to say thank you thank you thank you thank you thank you thank you !!!!!!
I've known about the zapper for a few years now from a practitioner in Colorado. However, until recently, it hadn't occurred to me that I could own one in my house!
At first, I found the plans to make one with wires and all that electronic stuff…my engineer friend was chatting about the project. But it's so much better to find one all done! Thank you for this wonderful experience…
In one day, my firstborn and I experienced a faster recovery than weeks of nutrition and other methods. I can't say thank you enough! May God richly bless you and yours for your faithfulness, effort and care in this product.
Onda
No back pain with a Zapper
Sep. 9, 2013 | Varizapper Notice
I had severe back pain so I zapped my body and in less than 2 hours my back was pain free. This is so amazing. Normally my back took a long time to heal. I will also do the zapper for food. I think everyone should have one. I'm telling all my friends. God bless you!
Cheryl B.
Buy a zapper from Dr. Hulda Clark