The VariGamma zapper is a combination of the Hulda Clark Zapper and the Rife Frequency Generator. According to Dr. Hulda Clark, the VariGamma can do everything necessary for frequency work.
The VariGamma Generator Kit Includes
Two pairs of gel electrodes
One pair of wristband electrodes with cable
Rechargeable battery
Instructions for use
Sturdy, padded plastic carrying case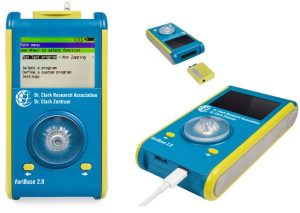 The VariGamma 2.0 includes the zapper programme with a programmed stimulation of 7 minutes and rest periods of 20 minutes.
It also functions as a programmable contact electrode generator with individual frequency inputs from 1Hz up to 1 million Hz. Plus harmonics up to 16 individual frequencies together and stores the programme on an external programme driver.
The advanced Wobble function analyses the frequency around the target frequency. This feature is very useful because pathogens can mutate and change their frequency. The unit comes with a pair of convenient wrist strap electrodes for zapping.
VariGamma 2.0 and new features
The VariGamma is not pre-programmed with a Clark frequency table. It is programmed for the standard VariZapper programme.
The latest generation of electrical equipment makes zapping more precise.
It has a battery that can be recharged when plugged into an electrical outlet, so there is no need for disposable batteries. This new battery has more usage time for each charge.
The VariGamma 2.0 has a battery analysis before the device is used, this attribute is incorporated to exclude the possibility that the battery will run down before the zapping is completed.
It has a larger screen with better resolution. New programme drivers can be stored in the device library for use by the user at any time. Navigation through the device programme is easily done with the rotating wheel.
VariGamma or VariZapper
The frequency generator (VariGamma) and the zapper operate according to two different principles. The zapper uses a positively shifted square wave, which results in a magnetic field, and is independent of frequency. This means that it does not matter with the frequency at which you take it.
Frequency zapping kills a range of parasites clustered around the chosen frequency and in more places, although frequency zapping alone does not eliminate PCBs or restore immunity.
When using specific, i.e. frequency-dependent frequencies, homeopathic principles are used, corresponding to the pathogen's own frequency. One could compare regular zapping to a machine gun, whereas frequency zapping to an elite sniper, i.e. targeted zapping.
Regular zapping mainly passes through our vascular and lymphatic system, reactivating white blood cells and restoring immunity. It is therefore effective to combine the two.
How to use a frequency generator ?
Zapping  each desired frequency should last a minimum of seven minutes. This duration has been chosen because it  always kills parasites.
Important : Do not skip if you wear a pacemaker or if you are pregnant.